Discover more from The Liberal Patriot
Political and social analysis to renew liberal values and advance American interests
Over 23,000 subscribers
A Not-So-Cruel Summer
Americans have good cause for optimism about their nation and its future as the summer of 2023 draws to a close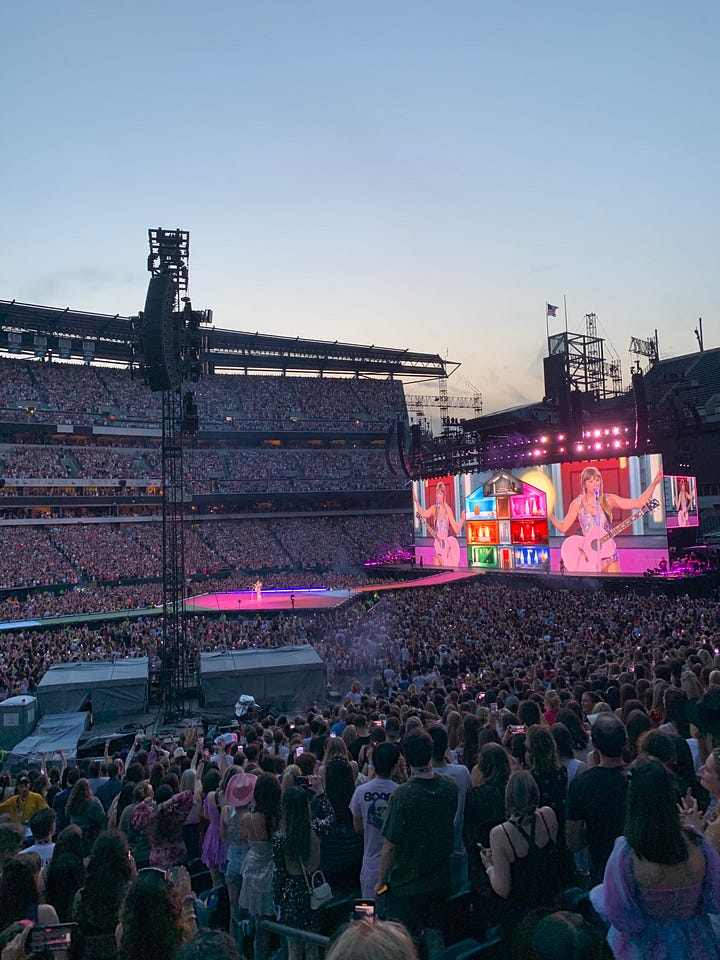 You don't need to be a Swiftie to feel that there was something different and a little more hopeful in the air this summer.
The doom and gloom that's been omnipresent in our national life—see virtually any statement former president Donald Trump has made since 2015 or those supposedly progressive voices who can't admit America ever has made any progress—slowly but surely seems to be giving way to a renewed sense of optimism. This more positive outlook remains exceedingly fragile and somewhat subterranean, and it can be hard to discern in the wider miasma of national despondency.
But many of us have simply grown tired of the unending pessimism of the past few years, exhausted with the relentless cynicism and casual cruelty that have pervaded and corroded our public life. A number of Americans seem hungry for a more hopeful outlook, and the country does feel as though it's turned something of a corner.
This past summer has seen its fair share of positive news, from some incipient signs of real progress in our national economy to Trump himself finally being held to account for his crimes against democracy. As the summer of 2023 comes to a close, we have good, justified reasons—however tenuous—for optimism about the nation and its immediate future.
Consider:
It takes time for a nation's mood to lift, of course, and some of the most important causes for optimism—namely solid inflation, unemployment, economic growth, and real wage data—remain the newest and most fragile. Many (if not most) Americans have yet to fully feel the effects of this good economic news, and it'll probably take several months at least for them to do so. In general, more progress needs to be made across the board to convert these recent advances into lasting gains.
Nonetheless, the events of this past summer make a solid, justified—if tentative—case for national confidence. It's still frail and delicate at the moment, and no one should go around declaring that it's morning in America just yet. After all, we're only now beginning to feel the sense of optimism that so many of us have longed for during our recent national trials and tribulations.
And there are still undercurrents that can knock the nation off course or drag it down—a lot of them:
Trump remains the frontrunner for the GOP nomination despite four criminal indictments, and therefore stands a chance of returning to the presidency in 2024. No one running against him in the party's primaries seems willing to challenge him directly; his main rival, Florida Gov. Ron DeSantis, continues to slip further and further behind the former president in recent polls.

America flirted seriously with default this past spring, and to avoid that disastrous outcome Congress and the Biden administration put the nation in a fiscal straitjacket for the next two years. That was the right move considering political reality, but it does come with negative consequences for a number of federal agencies and program.

Big bets made on renewable energy and electric vehicles by the Inflation Reduction Act may not pan out, or they may take significantly longer to come online and cost more than the Biden administration and its supporters hope and expect. 

The international scene remains unstable: Vladimir Putin keeps on fighting in Ukraine, inflicting suffering on ordinary Ukrainians and the world at large in the hope that he can outlast the United States and its allies. Israel faces a democratic meltdown and Britain an economic one, while Iran continues to supply Russia's war effort and repress its own people. Meanwhile, the United States and China continue to feel their way unsteadily toward new patterns of behavior.

Most consequentially, the positive economic trends we've seen in recent months—cooling inflation, low unemployment, real wage growth—may not persist or pick up quickly enough to change the nation's overall mood.
Still, there's good cause for optimism about the country and its immediate future. They're fragile and vulnerable, so we need to nurture and sustain these trends—not deny or minimize them. It'll be hard work moving forward, of course, but we could well look back on 2023 as the year America finally took a turn for the better.
That's more than enough of a reason to feel good about the country as the sun sets on this hopeful summer.